Hollingwood Pupil Esa - Boxing Clever.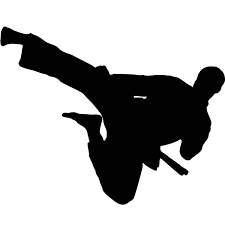 April 2015
Little Champion Esa is only months away from attaining his black belt. He has put in a huge effort in his last
grading for his Brown Belt which was physically and mentally very challenging, but he pulled it out of the bag.
So well done again Little Champ! and good luck for the on coming Black Belt...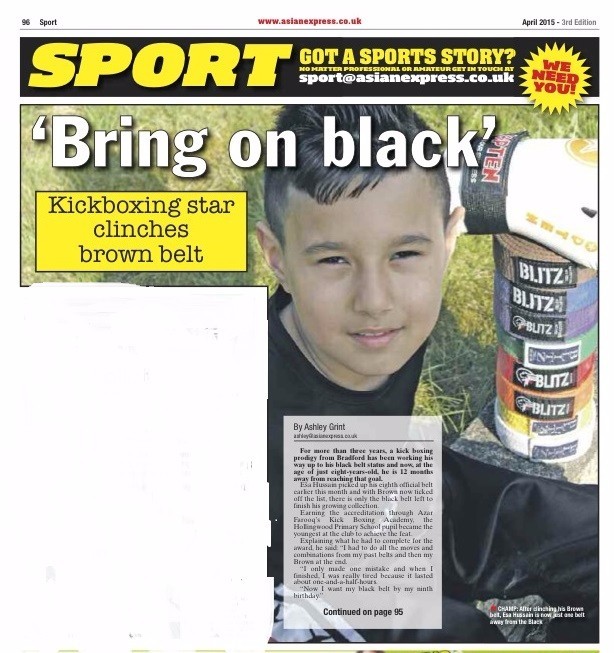 Esa does it again...
January 2015
This youngster has earned his Blue belt in kick boxing with flying colours.
That's seven grading belts at the tender age of 7 for Esa.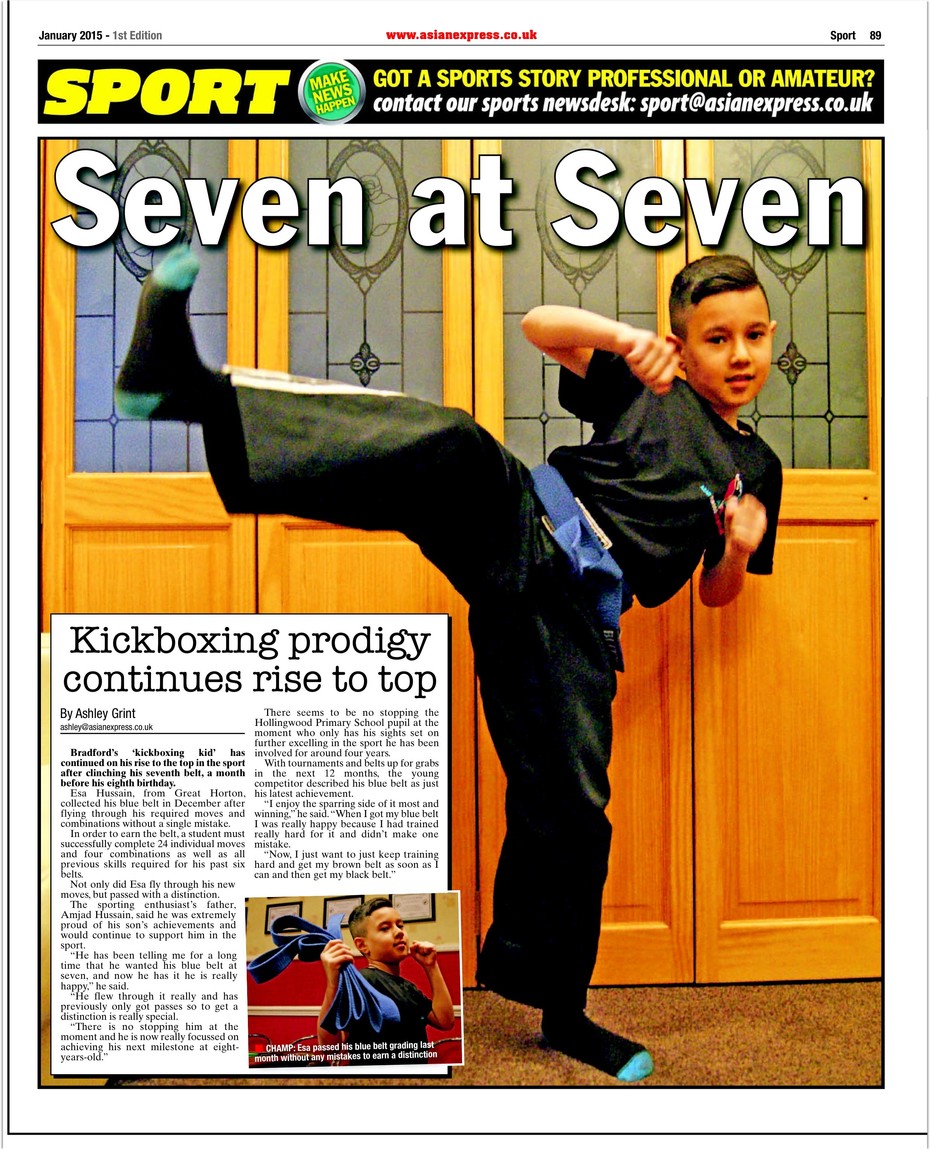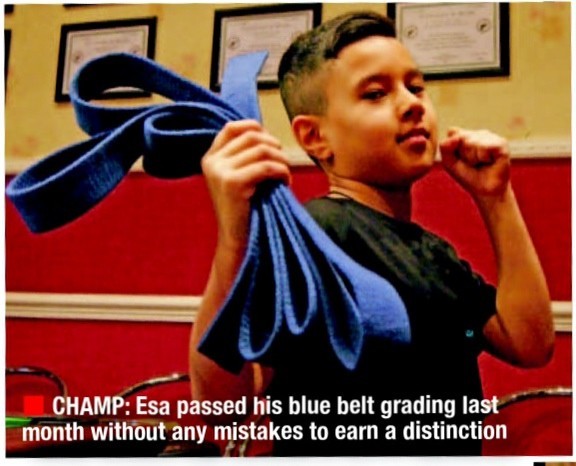 October 2014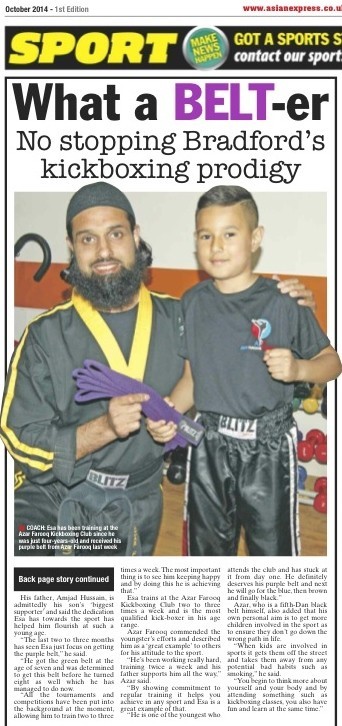 Latest news on Esa's success and his latest Article published by the

Asian Express Newspaper.

Esa has done it again, he achieved his Purple Belt

along with another Record at the tender age of 7.

ESA has been featured on his AFK Kickboxing Club's website

and he is in the Hall of Fame.

If anyone wishes to Join the AFK Kickboxing Club and train

along side Esa, or just want to have a browse,

please click on the link: http://www.azarfarooqkickboxing.co.uk


Training Days are as follows:


Friday 6 - 7.00 pm at Bracken-hill Primary School.


Saturday 9.30 - 11.00 am at Heaton Primary School.


Sunday 11 - 12 noon at Lapage Primary School.
June 2014
Esa celebrates gaining his Green Belt
March 2014

ESA took Part on 23/03/14 last week in his annual AFK Kickboxing Tournament.
ESA did really well, his singles match went all the way to the final, then Extra time. He came 2nd place by a single point.
In his team match he won his opponent easily, Esa's team scored total of 23 points and they came 2nd place, the winners scored 25 points.
Each team was made up of 4 opponents from different categories.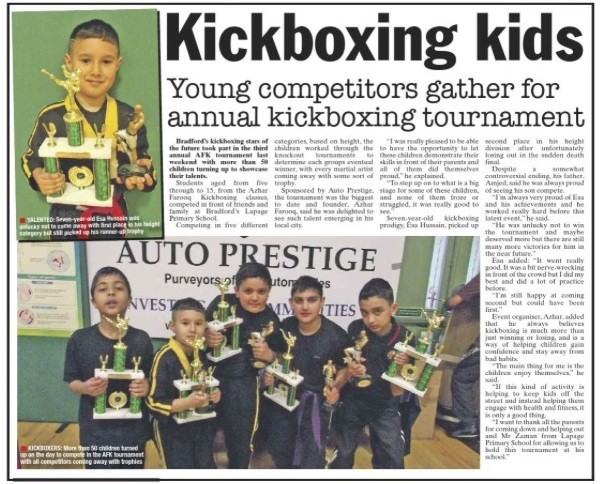 December 2013
Article in the December issue of Asian Express.
November 2013
I am pleased to inform you that Esa received his Red Belt on Saturday.
Esa had his Grading a week ago and Esa had put a lot of effort and dedication into getting ready, as he had to know his White, Yellow, Orange and then his Red Belt. All the Moves and Combinations in each Belt.

He has again achieved another Belt at the age of 6 years old.
A lot of credit goes to Mr Azar Farooq who is Esa's kickboxing Tutor, who works very hard with Esa and brings the best out of him.

Esa has now started his training for the upcoming Club Tournament which is scheduled to take place December/ January.
And for his next Belt.
September 2013
Article in The Bradfordian Newspaper.
May 2013
A Memorable Moment for Esa as he meets his Boxing Heroes,
Harry King Khan & Amir King Khan.
April 2013
Article in the April Edition of Asian Express
March 2013
ESA 's Latest Achievement Orange Belt
ESA had his grading in Kickboxing on: 31st March and he managed to get his Orange Belt.
December 2012
Article in the Telegraph & Argus Saturday 8th December Click here
November 2012
Esa has had more success in a recent Bradford Tournament by winning two trophies.
He came 2nd place in Singles (He lost 18/15, in the final). He came 1st place in Team.
He and 3 other all won their matches.
November 2012
Article in Asian Express
October 2012
Esa, who is now in Year 1, has successfully passed his yellow belt. Well done!
1st October 2011
Article from the Asian Express
Esa is successful again in another event held on:
25th September 2011
August 2011
Article in the Telegraph & Argus