Welcome to Hollingwood's Steps to Success
Here at Hollingwood we feel that it is really important that children understand the importance of learning a wide range of skills, over and above the academic subjects we teach. These are vital to develop key skills that are required to be successful as young adults in the world and also by the 21st century employers.
We have developed Our Steps To Success which focuses on nine essential areas for development.
At a whole school assembly these concepts for successful learners were introduced to the children along with the characters and the skills required to achieve their goals. Staff will be referring to these important traits throughout the school day and children are being encouraged to demonstrate their aptitude for each skill and collect stickers in their very own personalised sticker chart collection booklet. Children can also collect interactive Do Jo points which are linked to the Steps to Success skills and convert to house points.
Please take some time to look at the booklet with your child by clicking the link or image below.
Steps to Success Tick Collection Card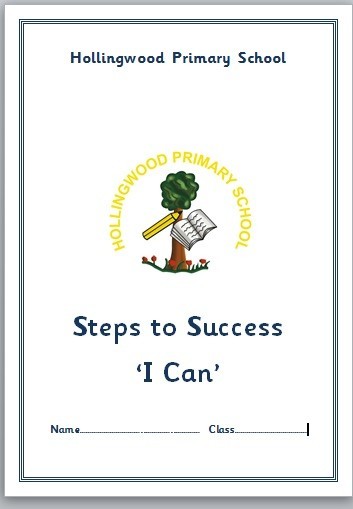 This is an example of a booklet as each child's booklet will be kept in school and once complete will be retained in their Life Plan folder which shows their achievements during their time at Hollingwood.

You will see that the children need to collect 3 stamps in the boxes before they gain a sticker of achievement.

Children will be rewarded once their booklet is complete. Booklets may take a considerable length of time to complete, it is not a race it is a tool to ensure children are consistently demonstrating these attributes and embedding them into their normal daily lives.

We would be grateful if parents would discuss these skills with their children and encourage them at home.