World Book Day
We had an amazing time dressing up for World Book Day. Guess the characters we came as!
Topic
Our History topic on Florence Nightingale really caught the children's imaginations. They learnt lots of information about Florence's life, and the impact her work has had on Britain today. They looked at old and modern medical equipment and even 'travelled back in time', to visit Florence's hospital in Scutari!
D&T
The children thoroughly enjoyed our 'dips' D.T. topic. They were able to taste and evaluate dips that had been bought in a shop, and then move on to creating their very own dip recipe. Everyone agreed that making, and of course eating, their very own dip was the best part!
Numeracy
In Numeracy lessons the children have been using lots of equipment to help them to understand the concepts of fractions and division.
Literacy
We have been focussing on report writing in Literacy. The children were able to put their factual writing skills to good use when they arrived at school one morning to discover that the book corner had been vandalised! The children produced crime scene reports, and read suspects statements before finally discovering that the culprit had been a toy monkey!
R.E.
In their R.E. lesson the children were given some time to create a model of their choice using construction equipment. Everyone was very proud of their finished product. We then talked about how the children would feel if someone didn't appreciate or respect their creation
PSHE
We have been thinking about how to keep ourselves happy and healthy in PSHE lessons.
Year Two saw how easily germs can be passed around. We put glitter on a child's hand to represent germs. We saw how quickly it could be passed from child to child. We discovered that soap and water removed the glitter completely.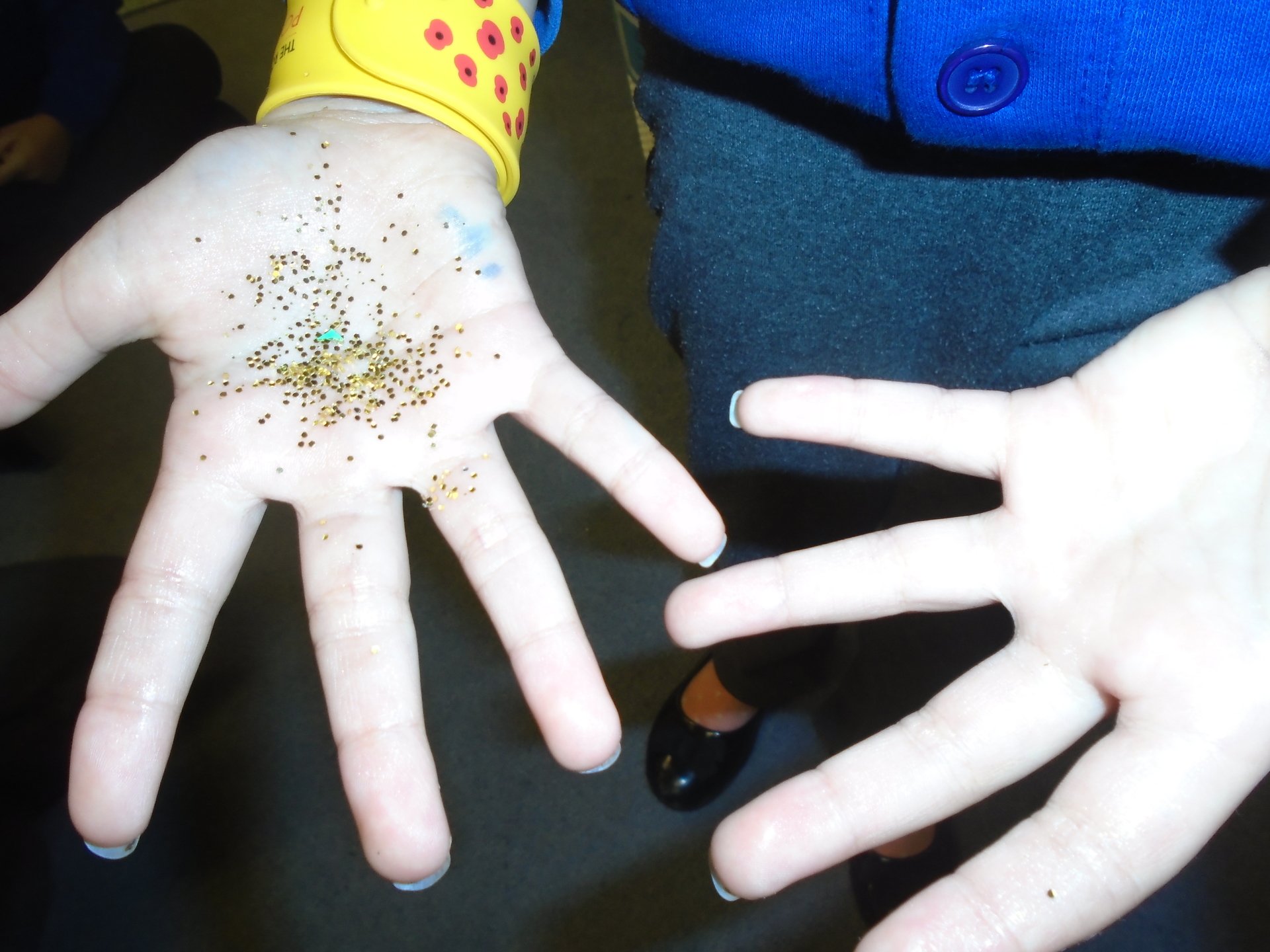 Science
We started our 'Mother Nature' topic by looking at manmade and natural objects around school. We also made observational drawings. The children enjoyed following in Andy Goldsworthy's footsteps making some natural sculptures. We will do more of this as the half term progresses and the weather improves!