Reception - What We've Been Up To
Twitter
We like to keep parents up to date with our classroom antics. Here are some of our recent ones:
Road Safety Visit
We had a very special visit from the road safety team! They showed us how to be safe when crossing the road. We learnt that we need to STOP, LOOK and LISTEN before crossing the road and that we should ALWAYS hold an adults hand. They even taught us a song about being safe at the road side! We loved pretending to cross the road and dress up as a car! We learnt lots of ways to keep safe!
Allotment Visit
We are very lucky at Hollingwood to have our very own Allotment. Look how excited we were to help harvest the carrots!
The Owl Sanctuary visits Reception
During our Autumn topic, we have been looking at the story of The Owl Babies. We invited Steve from the Owl Sanctuary into school, where we met 5 of his owls. Their names were Casper, George, Charlie, Jack and Dusty. The owls were cute and fluffy. All the children were so brave and listened very carefully to Steve, when he was talking about the owls he had brought in. He let us stroke each owl, and at the end of the session, he even let us hold an owl! We were all so very brave!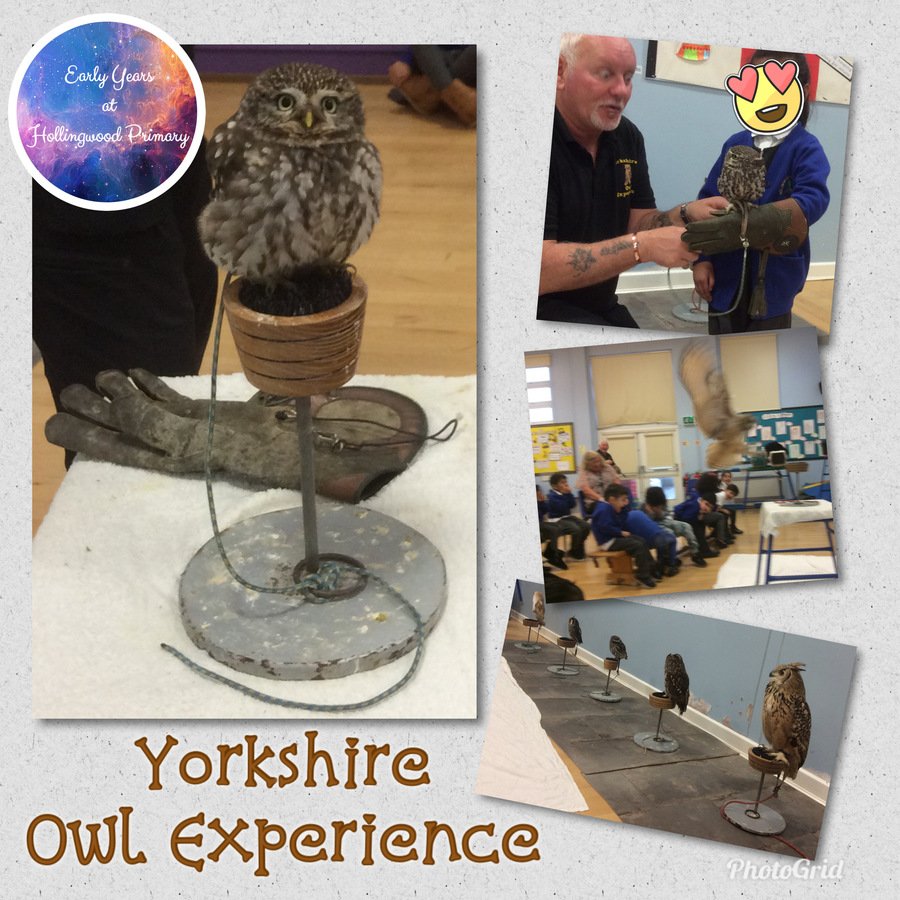 Reception Autumn Walk
This half term we have been focusing on the season of Autumn and the changes we can see happening outside. We have been talking lots about what happens to trees, animals and plants throughout the Autumn and have been asking and answering lots of how and why questions based on our observations.
We wrapped up in our coats and hats and went on a lovely Autumn walk around school; we used all our senses to listen, smell and look at the trees and plants around our school grounds. The children made some fantastic observations about what they saw and we really enjoyed discovering some new things we hadn't noticed before - we saw some nests high up in the trees, red berries on a bush outside and interesting evergreen fir trees which still had their green, spiky leaves. Our favourite part was when we got to jump and stomp in the leaves listening to the crunchy leaves under our feet. At the end of the Autumn walk we went back to the classroom and all enjoyed a warm cup of hot chocolate.
It was a wonderful way to spend an afternoon in Reception and will give us plenty to talk about and explore in the classroom.
Forest Fridays!
The Reception children have been spending every Friday in our Forest. We have been so proud of how well the children have responded to the challenges of the outdoors - the change in weather, the size of the space and the trust we have placed in them as they explore independently.
The Reception children have formed strong relationships with the younger Nursery and Short Circuit children that join us in the forest. The children who joined us last year in the forest explore with much more purpose, confidence and interest. We love being in the forest!
We have so much fun at the forest that parents comment that their children ask "is it Forest Friday yet?"
Bookstart Packs
Today we invited our Mummies and Daddies into our classroom to collect our bookstart packs and share them with us. The parents and children enjoyed spending time together, sharing their new book and enjoying other stories from the classroom.