Nursery Areas of Learning
Our Nursery Environment has been through a period of change. Whilst it is still set up with lots of areas of continuous provision, our environment seeks to encourage children's natural investigations and interest through a range of natural, open ended resources. The purpose of effective continuous provision is to offer children a constant environment that is safe for them to explore whilst challenging their learning. It should allow children the freedom to explore and become independent in making choices.
An important part of the EYFS is to support children in becoming active learners; continuous provision allows children to demonstrate this aspect and practitioners can closely observe this during their play. Continuous provision supports children's learning and development across all seven areas and the characteristics of effective learning.
Below are some of the areas of continuous provision that you will find in Hollingwood Nursery.
We have introduced a new area into Nursery this year in our Loose Parts Workshop. The Curiosity Approach® is a modern day approach to Early Childhood, taking parts from Reggio, Steiner, Te Whāriki with a sprinkle of Montessori. It's a beautiful recipe book of wonderful ingredients, carefully mixed together with experience, passion and a love of Early Childhood. It's baked together in a mindful oven of loveliness that needs thoughtful practitioners and professionals to be mentally present, thankful and forever curious about their career with little children. Be Curious, Have Fun, Make a Difference!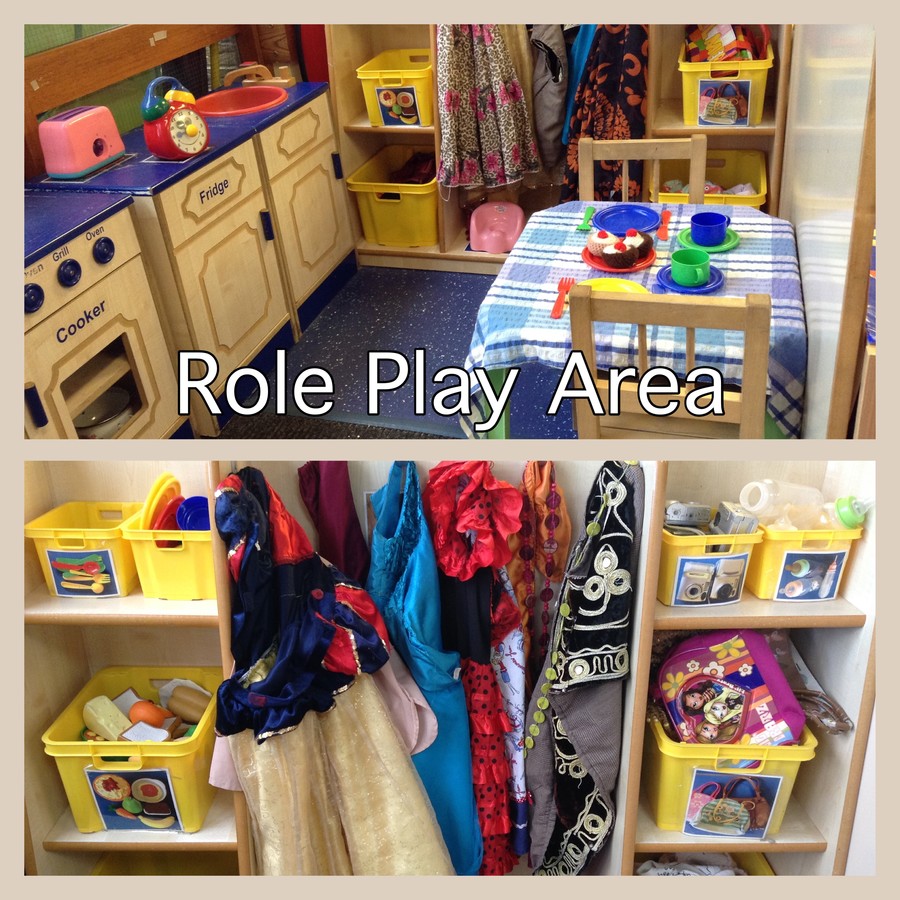 Role play is an important part of child development as it builds confidence, creativity, communication, physical development and problem solving. Along with being a fun activity, it also allows children to get into character and act out real life roles. We love making cups of tea and baking buns for each other. We iron the baby clothes and wash them in the bath. We all go shopping together.
Role play is so much fun!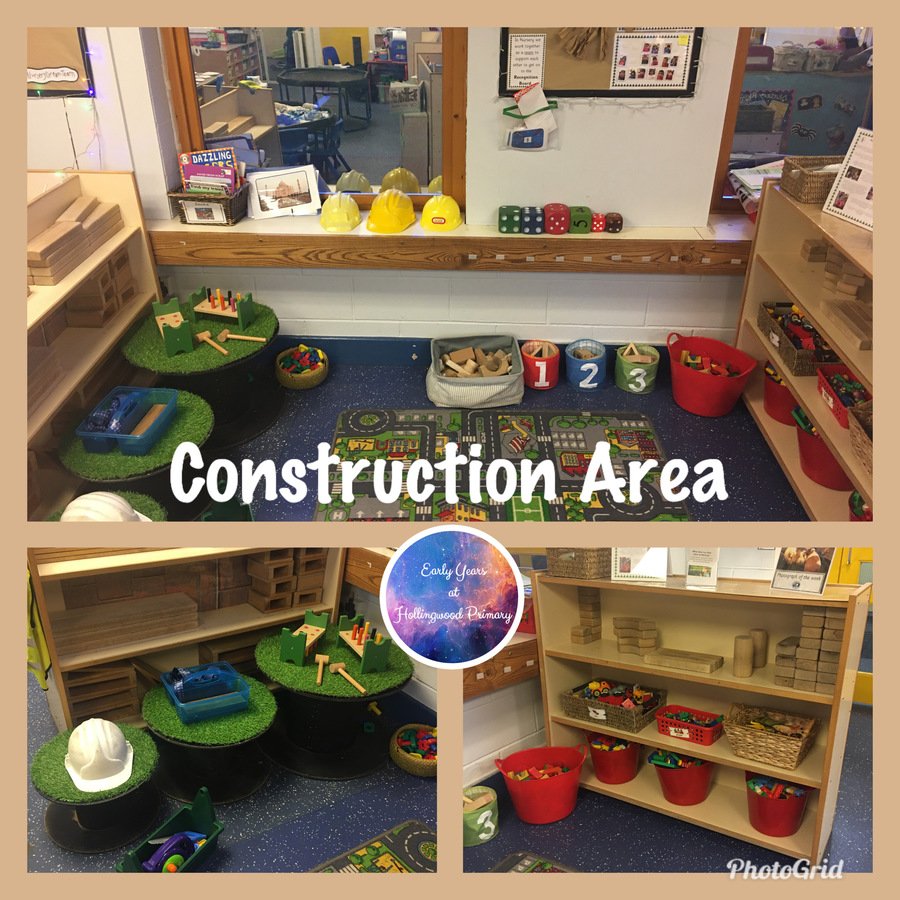 Constructive play involves building and making things that no one has ever seen before. As young children fiddle with, sort and arrange materials, ideas and imagination begin to flow. Questions arise naturally. They wonder...what will happen if I put this here? How tall will it go? Where did the noise come from? In this way, construction play serves to focus the minds of children through their fingertips and leads them to invent and discover new possibilities, to fulfil their sense of purpose.
Mathematical language is supported through construction play as children learn to recognise and name the shapes that they are using. They will be able to count the bricks and learn how many are left standing as their towers topple over. Measuring skills will playfully be introduced as we learn which tower is the tallest or which is the shortest.
Construction play is very, very busy work!
Sand play promotes physical development. Large muscle skills develop as children dig, pour, sift, scoop, and clean up spills with brush and dustpans. Hand-eye coordination and small muscle control improve as children learn to manipulate sand accessories.
Sand play also promotes social skills. When children work together at the Sand Area they are faced with real problems that require sharing, compromising, and negotiating. A group may engage in role play as they 'cook', construct roadways, dig tunnels, or create a zoo for small world animals. As children take on roles associated with their early role play, they learn important social skills such as empathy and perspective taking.
Mathematical and scientific concepts can be developed during sand play by providing children with measuring spoons and cups, containers in a variety of sizes and shapes, balance scales, or counting bears.
Early mathematicians and scientists can be made in the Sand Area!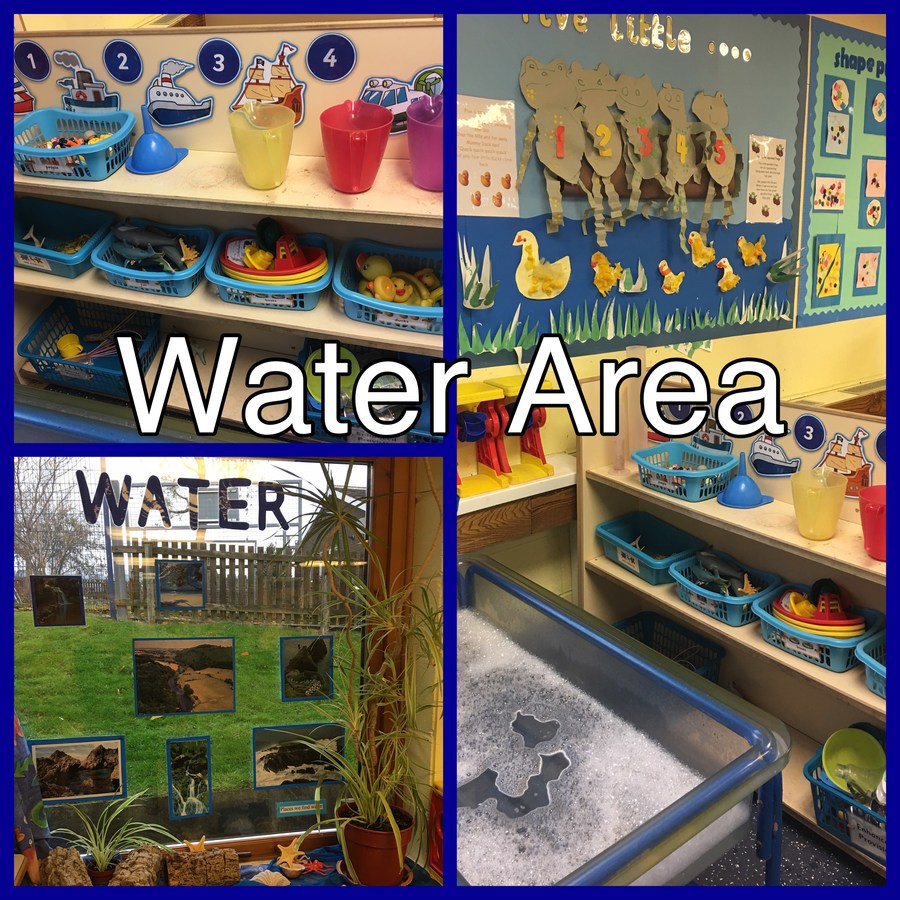 Water play fosters learning in all developmental areas. It provides opportunities for children to experiment with maths and science concepts, strengthen their physical skills, advance their social and emotional skills, and enhance language development.
As children manipulate water play materials, they begin to understand why and how things happen. For example, given sinking and floating objects, a child will soon discover that just because something is large in size does not mean it will sink. Children begin to understand and experiment with concepts such as more/less, same/different, many/few, empty/full, before/after, greater than/less than and counting.
Water play encourages the development of eye/hand coordination through pouring, squeezing, stirring, painting, scrubbing, and squirting. Children strengthen their gross motor skills by running, dodging water drops, and hopping through a sprinkler. They widen their sensory experiences as they put their hands in different textures (gritty, squishy, and slimy) and different temperatures (warm, cool, and cold).
Water play is one of the most relaxing activities children can experience. Water play relieves tension by encouraging children to release their emotions with pouring, pounding, and swooshing. In addition, social skills expand as children play cooperatively; negotiate; and share equipment, space, and materials.
Children learn new vocabulary such as sieve, funnel, eggbeater, stream, bubbly, moisture, and evaporation. Water play is such a meaningful experience for young children that it can be extended to writing experiences as well.
We learn so much through playing with Water Area!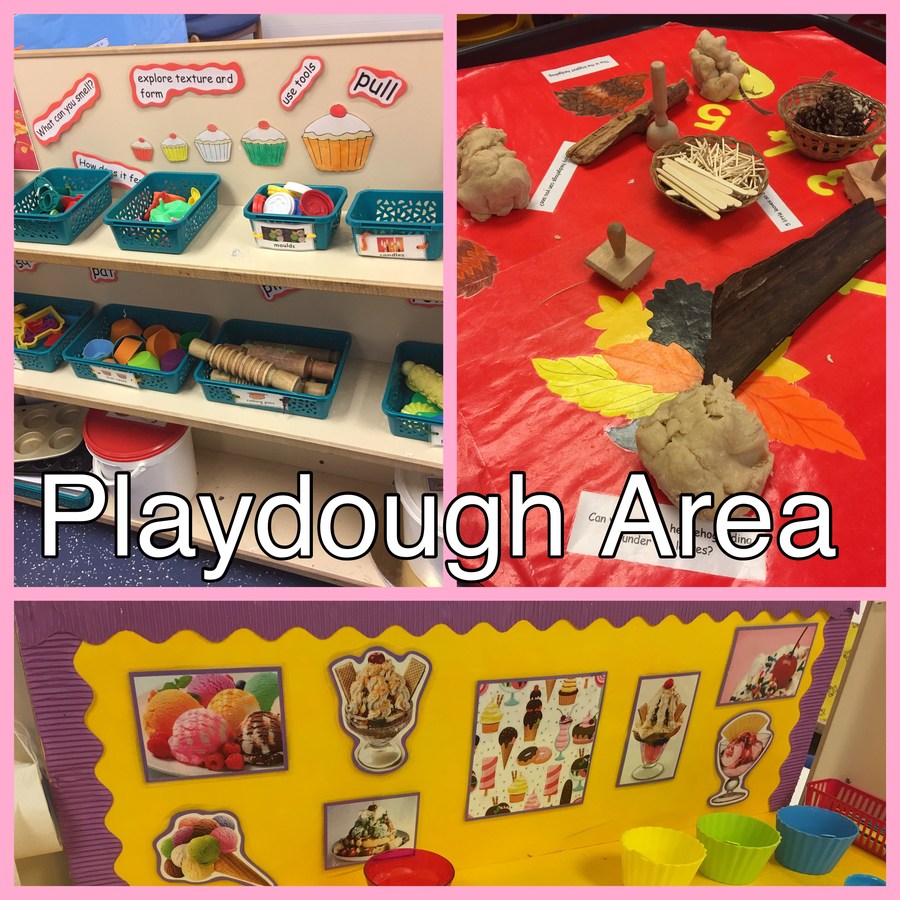 The malleable properties of playdough make it fun for investigation and exploration as well as secretly building up strength in all the tiny hand muscles and tendons, making them ready for pencil and scissor control later on.
As part of simple, tactile play it can be squashed, squeezed, rolled, flattened, chopped, cut, scored, raked, punctured, poked and shredded! Each one of these different actions aids fine motor development in a different way, not to mention hand-eye co ordination and general concentration. And as soon as you add another element to it, like essences, natural materials, colouring etc. the list of benefits and creative play possibilities continues to grow!
We make our hands and fingers really strong in the Playdough Area!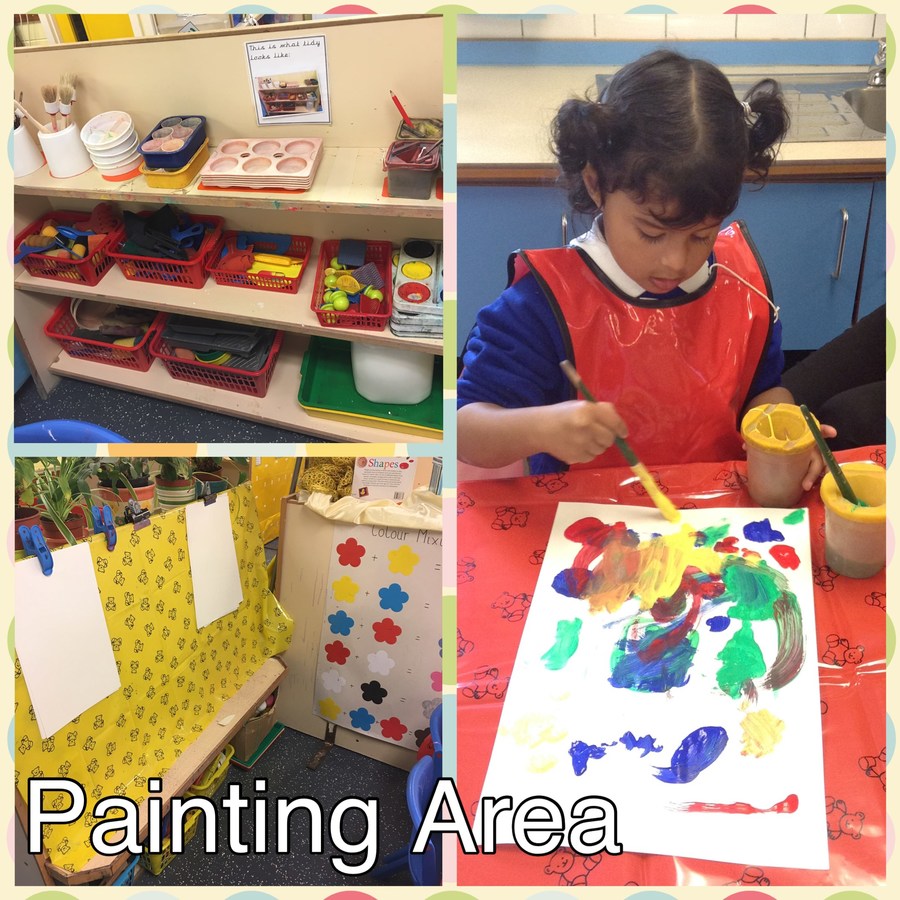 Painting is a way for children to do many important things: convey ideas, express emotion, use their senses, explore colour, explore process and outcomes, and create aesthetically pleasing works and experiences.
Children form many connections and ideas of how the painting process works for them, as well as what they enjoy about it. When we observe a child painting, we see a fully engaged child. We can almost see children's thoughts, such as, "When I push my brush flat, my line gets bigger", or "I like stirring this, but I don't want to put it on paper or touch it", or "I mixed red with more red and orange, and got fire colour red!"
In the Painting Area we learn to be artists; to express ourselves in texture, form and colour!